Many buyers are wondering where to find houses for sale in today's market. It's a true dilemma. We see an increase in buyer demand, but the supply available for purchase isn't keeping up.
The number of new housing permits issued prior to the great recession increased for 15 years until 2005 (from 1.12 million in 1990 to a pre-recession peak of 2.16 million in 2005). According to Apartment List,
"From 1990 to 2005, the number of single-family permits issued more than doubled, while the number of multi-family permits grew by 49 percent."
When the housing market crashed, the number of new homes permitted decreased to its lowest level in 2009 (see below):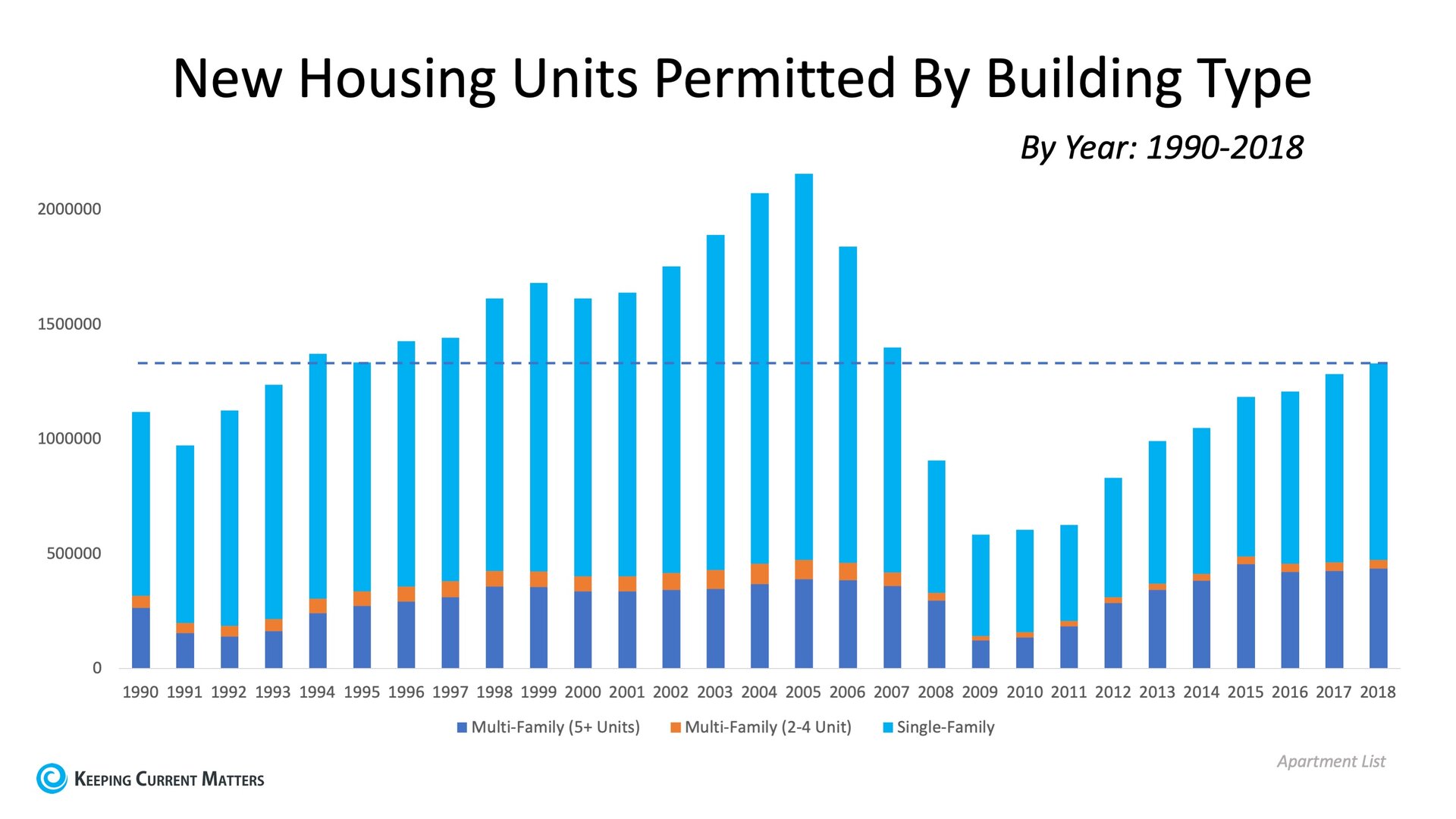 Since then, supply and demand have been out of balance when it comes to new construction. According to the same report,
"Construction of single-family homes has recovered much more slowly — the number of single-family housing units permitted in 2018 was barely half the number permitted in 2005."
Why is new construction so important?
As the U.S. population increases, there is also an increase in the need for new homes. Today, new construction is not keeping up with the increase in the nation's population. The report continues:
"The total number of residential housing units permitted in 2018 was roughly the same as the number permitted in 1994, when the country's population was 20 percent less than it is today."
Essentially, the dip in home building coupled with the steadily increasing U.S. population means there is now a selling opportunity for homeowners willing to list their current houses.
Bottom Line
If you're considering selling your house to move up, now is a great time to get a positive return on your investment in a market with high demand. Contact a local real estate professional who can walk you through the specific options available for you and your family.
Nicole Folks
17400 Northwoods Blvd

530.386.7538
NK@TahoeBre.com
CalDRE#: 01757659
Real estate agents affiliated with Coldwell Banker Residential Brokerage are independent contractor sales associated, not employees.© 2019 Coldwell Banker Residential Brokerage. All Rights Reserved. Coldwell Banker Residential Brokerage fully supports the principles of the Fair Housing Act and the Equal Opportunity Act. Owned by a subsidiary of NRT LLC. Coldwell Banker and the Coldwell Banker Logo are registered service marks owned by Coldwell Banker Real Estate LLC.