The housing crisis of the last decade was partially caused by unhealthy levels of mortgage debt. Homeowners were using their homes as ATMs by refinancing and swapping their equity for cash.
When prices started to fall, many homeowners found themselves in a negative equity situation (where their mortgage was higher than the value of their home). As a result, they walked away. This caused prices to fall even further.
Headlines are again talking about record levels of mortgage debt, making the comparison to the challenges that preceded the housing crash. However, cumulative debt is not an important data point. If we look at the debt as a percentage of disposable personal income, we are at an all-time low.
Here's a visual representation of mortgage debt as a percent of income: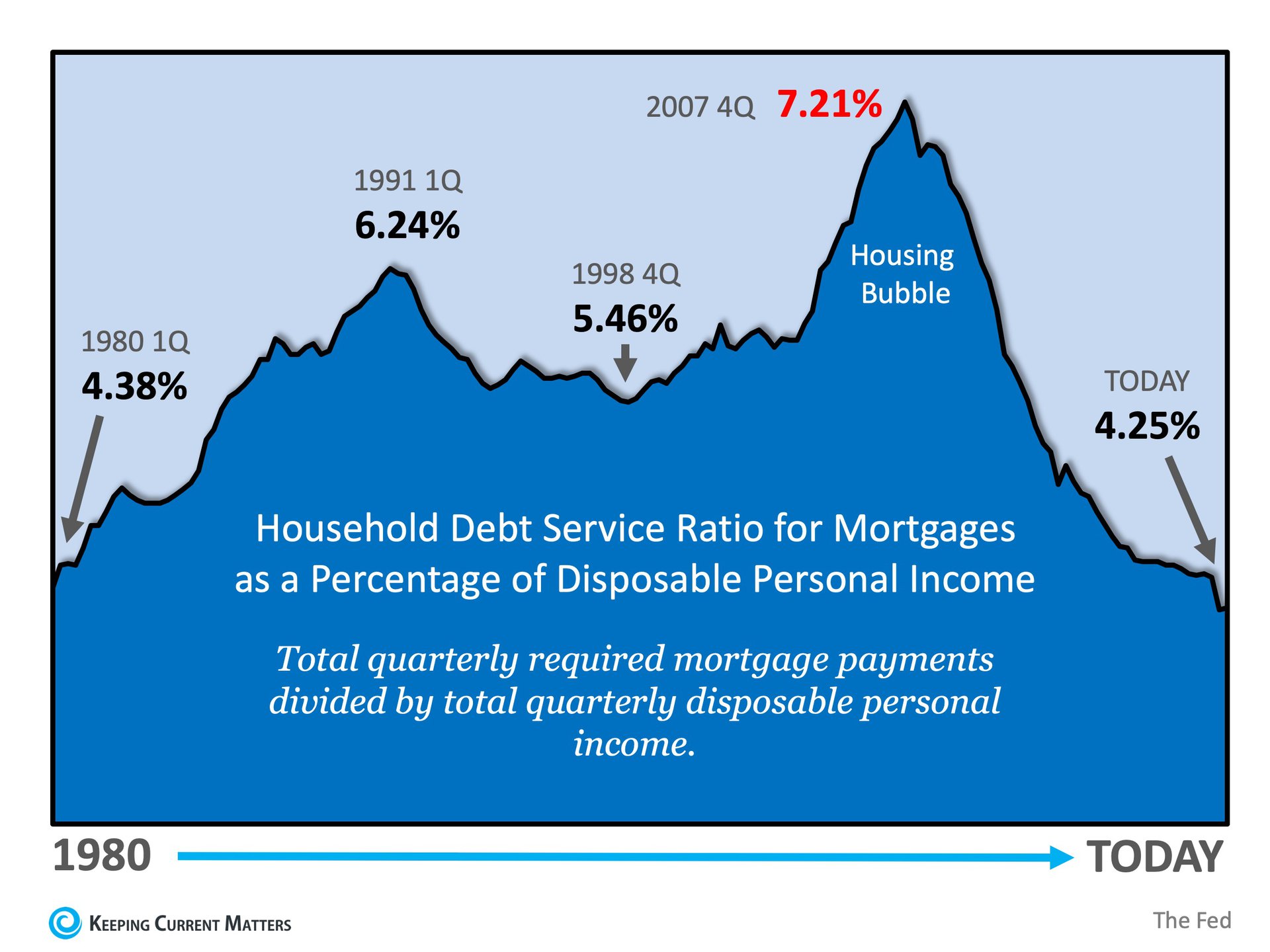 Furthermore, according to a new report from ATTOM Data Solutions, more than 1-in-4 homes with a mortgage have at least 50% equity. The report explains:
"[O]ver 14.5 million U.S. properties were equity rich — where the combined estimated amount of loans secured by the property was 50 percent or less of the property's estimated market value — up by more than 834,000 from a year ago to a new high as far back as data is available, Q4 2013."
Bottom Line
Unlike 2008, homeowners have a comfortable level of mortgage debt and are sitting on massive amounts of home equity. They will not be walking away from their homes if the housing market begins to soften.
Nicole Folks
17400 Northwoods Blvd

530.386.7538
NK@TahoeBre.com
CalDRE#: 01757659
Real estate agents affiliated with Coldwell Banker Residential Brokerage are independent contractor sales associated, not employees.© 2019 Coldwell Banker Residential Brokerage. All Rights Reserved. Coldwell Banker Residential Brokerage fully supports the principles of the Fair Housing Act and the Equal Opportunity Act. Owned by a subsidiary of NRT LLC. Coldwell Banker and the Coldwell Banker Logo are registered service marks owned by Coldwell Banker Real Estate LLC.